05 Jul

Hjelle graduates from Dakota School of Banking

Posted at 15:24h

in

Blogs

Niki Hjelle, Unison Bank Loan Operations Specialist in Jamestown, N.D., recently graduated from the Dakota School of Banking.

The Dakota School of Banking is sponsored by the North Dakota Bankers Association (NDBA) and endorsed by the South Dakota Bankers Association (SDBA). In its 48th year, the school trained 63 bank personnel on the University of Jamestown campus in Jamestown, N.D.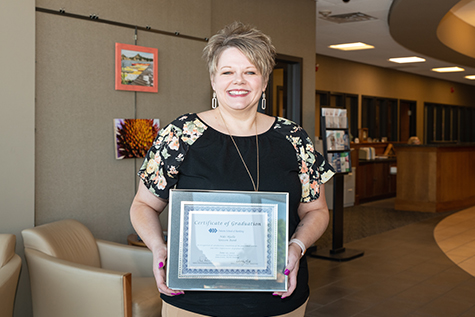 Students, like Hjelle, are enrolled for two years and attend the school for one week each summer. Hjelle was invited to attend by Unison Bank President & CEO, Kelly Rachel.
The first year provides an overview of the banking industry and the departments that make up a bank. Second-year students build on their banking knowledge and add a computerized bank management simulation to reinforce technical and functional management skills.
School instructors included bankers, attorneys, accountants and financial industry consultants. The sessions combined lectures, hands-on activities, a computerized banking simulation and testing.
"When first enrolling in the Dakota School of Banking, I was most intrigued by the multi-dimensional educational experience that they provide their students with," said Hjelle. "Dakota School of Banking was an amazing experience. I came away with a wealth of knowledge and a greater appreciation for our management team."
The Dakota School of Banking provides a focused education for bankers who seek a better understanding of the industry and advancement in their careers, shared NDBA Senior Vice President of Education, Dorothy Lick.
After attending the school and graduating, Hjelle was able to broaden her knowledge of day-to-day bank operations and processes, as well as enhance her current performance in her role with the customers and colleagues she serves.
"Early on in my career at Unison Bank, I have been open with our management team regarding my career goals. They have provided me with opportunities for growth, like the Dakota School of Banking, and have allowed for me to grow and advance within the organization," said Hjelle.
"Our employees are our most valuable asset; therefore, we make an effort to continue investing in them," said Rachel.
Hjelle joined the Unison Bank team in September of 2009 as an Ag & Commercial Loan Processor. In addition to her current and first roles at Unison Bank, she had been a Mortgage Loan Specialist and Audit & Compliance Specialist in previous years. Hjelle moved into her current role with the bank in 2021.
For more information about Unison Bank or career opportunities, visit www.unisonbank.com or call (701) 253-5600.
---
LEARN MORE: