07 Jul

José Garcia named Unison Bank Artist of the Month

Posted at 08:00h

in

Blogs

Unison Bank announced that José Garcia is the organization's Artist of the Month for July 2022.


Each month, Unison Bank features local artists, photographers, quilters and creators, and their products or services. Since 2013, they have featured 96 artisans.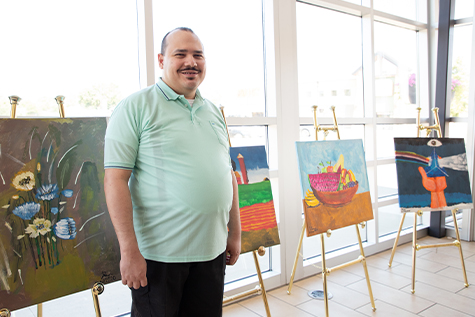 Garcia, a client at Alpha Opportunities, Inc., has displayed paintings throughout the lobby of Unison Bank in Jamestown, N.D. Garcia specializes in acrylic paintings.

"I started painting in 2009," said Garcia. "Painting is something that I have and will always enjoy doing."

Garcia, originally from Puerto Rico, moved to the Jamestown area in 2018. He first became interested in artwork, especially painting, after he attended classes from his art instructor, Mr. José Balay, in Ponce, Puerto Rico. Garcia learned everything about different brushes, the application of acrylic paints, mixing paints and the conceptualization of a painting while he learned from Balay.

"In every community, there is hidden talent," said Unison Bank President & CEO, Kelly Rachel. "We're honored to be able to provide a platform that helps showcase the creativity artists, like José, have."

To learn more about José Garcia and how to purchase a painting, contact Alpha Opportunities Program Manager, Denise Olson, at (701) 252-8575. To learn more about the Unison Bank Artist of the Month program, please contact Unison Bank at (701) 253-5600.
---
LEARN MORE: