03 Aug

Lucero named Unison Bank Artist of the Month

Posted at 04:15h

in

Blogs

Unison Bank recently named Janice Lucero as its featured artist for August 2021.

Each month, Unison Bank features local artists, photographers, quilters and creators and their products or services. Since 2013, they have featured 89 artisans.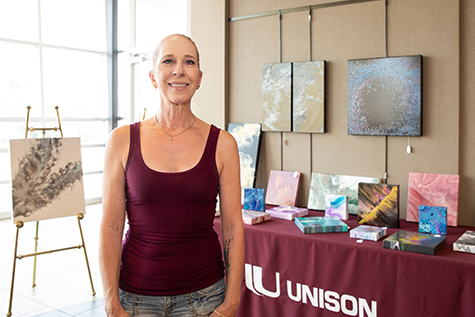 August's featured artist, Lucero, has displayed a variety of acrylic paintings throughout the lobby of Unison Bank in Jamestown, N.D.
"Painting is therapeutic," said Lucero. "It's calming to take time, mix paints to the proper consistencies and then watch how the paints mix on canvas."
Born and raised in Valley City, N.D., Lucero moved to Jamestown, N.D., in 2002. She began specializing in acrylic flow art after a dear friend and her mother both passed away in 2020. Painting was a source of therapy at the time and has since turned into a passion project.
"To be visually impaired and also able to create beautiful pieces of art just shows that anyone can do anything they want when they put their mind to it," Lucero stated.
Her artwork may be found at the Kirkpatrick Art Gallery located at the Frontier Village in Jamestown, N.D. Her store, Wild Rose Artistry, may be found on Facebook.
"As a community bank, we're honored to provide local artists the opportunity and platform to display their unique talents," said Unison Bank President & CEO, Kelly Rachel. "We invite the community to stop in and see the talent our community has to offer."
To learn more about how to purchase a piece or about the Unison Bank Artist of the Month program, please contact Unison Bank at (701) 253-5600. To view lobby hours, visit www.unisonbank.com/locations.
---
LEARN MORE: