01 Feb

Former JHS graduate, Shaun Hogan, named Unison Bank Artist of the Month

Posted at 07:30h

in

Blogs

Unison Bank recently named Shaun Hogan as its featured artist for February 2022.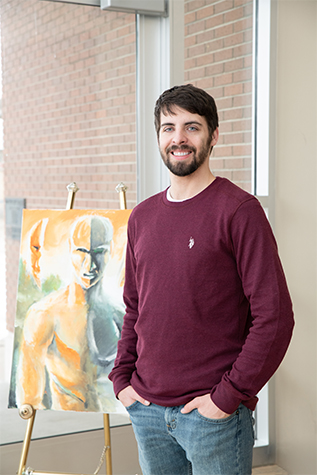 Each month, Unison Bank features local artists, photographers, quilters and creators, and their products or services. Since 2013, they have featured 92 artisans.
February's featured artist, Hogan, has displayed a variety of paintings throughout the lobby of Unison Bank in Jamestown, N.D.
"For as long as I can remember, I have been drawing," said Hogan. "Not only is it enjoyable and satisfying, but it is also fun and relaxing!"
Born and raised in Jamestown, N.D., Hogan resides in Valley City, N.D. Hogan created a few paintings throughout his high school senior year in 2014 and picked it up as a hobby in 2020. His artwork encompasses doodling, painting, graphic design, creating music, writing and designing video games. Hogan's paintings feature nature, scenery, fictional characters and other abstract designs.
"I used to draw in my free time during school, college and whenever I was bored," said the former Jamestown High School graduate. "Now, I'm turning my favorite pastime into a career as a graphic designer."
In addition to Unison Bank, Hogan has several pieces of art displayed at The Vault in Valley City, N.D.
"As a community bank, we're honored to provide local artists the opportunity and platform to display their unique talents," said Unison Bank President & CEO, Kelly Rachel. "We invite the community to stop in and see the talent our community has to offer."
To learn more about how to purchase a piece or about the Unison Bank Artist of the Month program, please contact Unison Bank at (701) 253-5600. To view lobby hours, visit www.unisonbank.com/locations.
---
LEARN MORE: